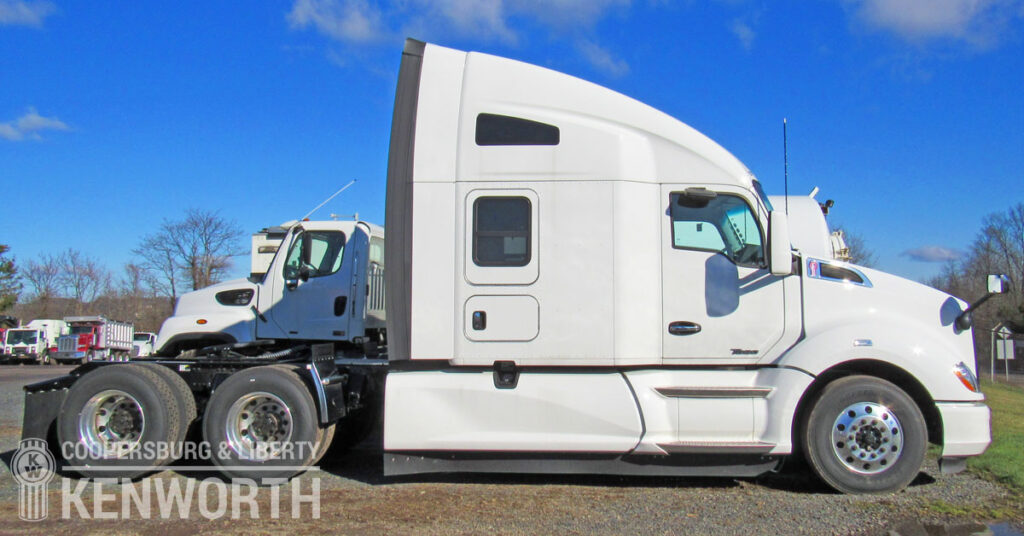 While we have plenty of truck lines here at Coopersburg & Liberty Kenworth which are popular, if we had to pick the most popular model, it would probably be the T680 Kenworth. (The T880 would be a close runner-up.) We seem to be always getting inquiries about the T680, and you can be certain that if we get in a used T680 Kenworth from recent years, it's not going to be on the lot for long.
What is it about the T680 which makes it so popular? It's probably due to a few factors, but it boils down to this: The T680 can excel in a wide range of roles, while saving owners money the entire time. That makes it one of the single most productive trucks we sell.
Why So Many Fleets and Owners Are Adopting the Kenworth T680
Power to Spare
Despite its 600-series model number, which might suggest a weaker truck, the T680 is a full Class 8 vehicle – which means its fit for heavy duty work. It comes standard with a PACCAR MX-13 engine, with 510HP and 1,450 – 1,850 lb-ft of Torque, which is plenty for most jobs on its own. However, it can take anything up to a 605HP Cummins X15, with 2,050 lb-ft of Torque. That puts it on par with some of the biggest working vehicles rated for highway driving.
Extreme Aerodynamics
There are many times when a truck can claim to be the "best" or the "most" and it's debatable. But saying the T680 is the most aerodynamic truck on the road is a simple fact. It far outclasses other Class-8 trucks. It's streamlined and beautiful, and also has far less drag – meaning significant reduction in gas usage pound-for-pound.
Further Gas Savings
On top of the aerodynamics, the T680 Kenworth also has superior computer controls aimed at reducing gas use even further, while also encouraging smarter driver behavior. As a result, it can cut on-road costs by up to 10%!
Multiple Cab Options
If you want cab choices, the T680 is for you. Besides the standard daycab, you have several different sleepers of different weights and sizes. You can pick the perfect balance between driver comfort and maximizing load size.
See the Kenworth T680 for Yourself
Just come visit either of our Coopersburg & Liberty Kenworth locations, and take the T680 for a test drive!