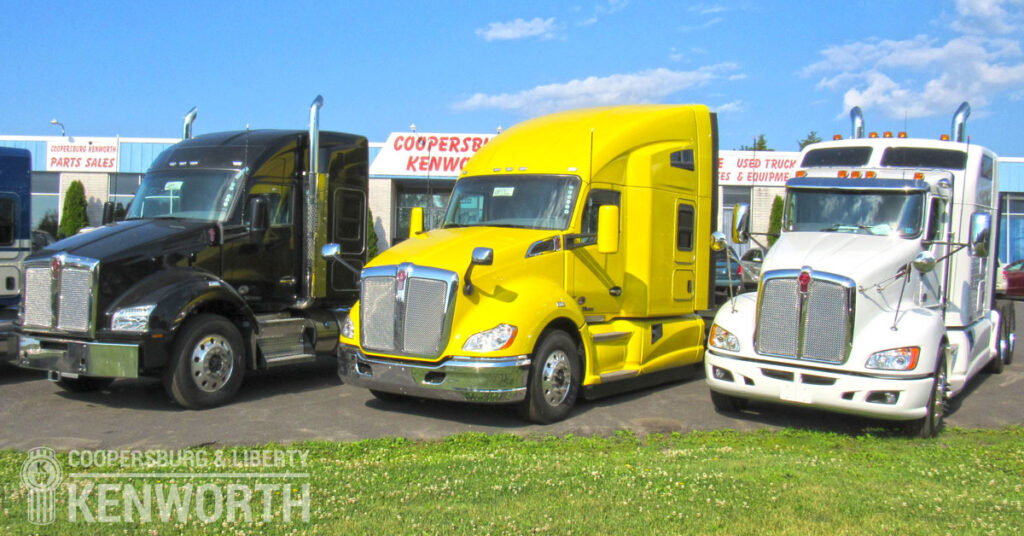 With so many options on the market, why look into Kenworth trucks for sale in PA & NJ? 
As a regional Kenworth dealer who's been in business since 1980,our team at Coopersburg & Liberty Kenworthmight be a little biased, but it's no coincidence that we picked Kenworth as our partner.  Both then, and now, we are absolutely convinced that Kenworth lives up to their motto as "The World's best" trucks.  Their long history of excellence and innovation makes it an easy pick for us and, we hope, for you as well.
Whether you're an independent contractor or part of a larger working operation, we'd like you to strongly consider buying one of the many Kenworth trucks for sale in PA & NJ.
When Kenworth Says "The World's Best" They Mean It
Vast Experience
Kenworth is one of the oldest American truck manufacturers still in business, having produced working vehicles continuously since the 1920s.  Every step of the way, they've been at the cutting edge of truck technologies, seeking to push the envelope and deliver a better experience with each year's new models.
The Accolades 
Kenworth trucks are frequently named "Truck of the Year" by major industry groups, over and over.  The plain truth is that few other manufacturers can match Kenworth's dedication to quality and innovation, while remaining within the reach of reasonable budgets.
Engineered for Efficiency
Kenworth understands that operating budgets are tight, especially when gas prices can be so inconsistent.  Their trucks -especially the award winning T680– are engineered to be lightweight and highly aerodynamic to shave costs off daily expenditures wherever possible, without compromising performance or safety.  On top of that, smart onboard computer systems monitor a wide variety of factors, from braking rates to tire pressure, continually seeking maximum efficiency out of every tank of gas.
Plenty of Cab Options
Few other truck manufacturers offer the same range of options in cabs, from short day cabs to the massive 76″ high-roof option, which is practically a hotel room on wheels, complete with twin bed, plenty of storage space, and optional amenities such as TVs and refrigerators.  There's a perfect cab for every driver, no matter their needs.
Affordable Pre-Owned Vehicles
Since Kenworth is constantly upgrading their models and many fleets like to rapidly adopt the latest and greatest Kenworth models, there's almost always a thriving used truck market allowing you to buy The World's Best for less.  And when you buy used Kenworth trucks for sale in PA and NJ from Coopersburg & Liberty Kenworth, you can rest assured they've been fully inspected and are ready for many more years of service.
With more than forty acres of Kenworth trucks, Coopersburg & Liberty Kenworth can't be beat.  Come see for yourself!