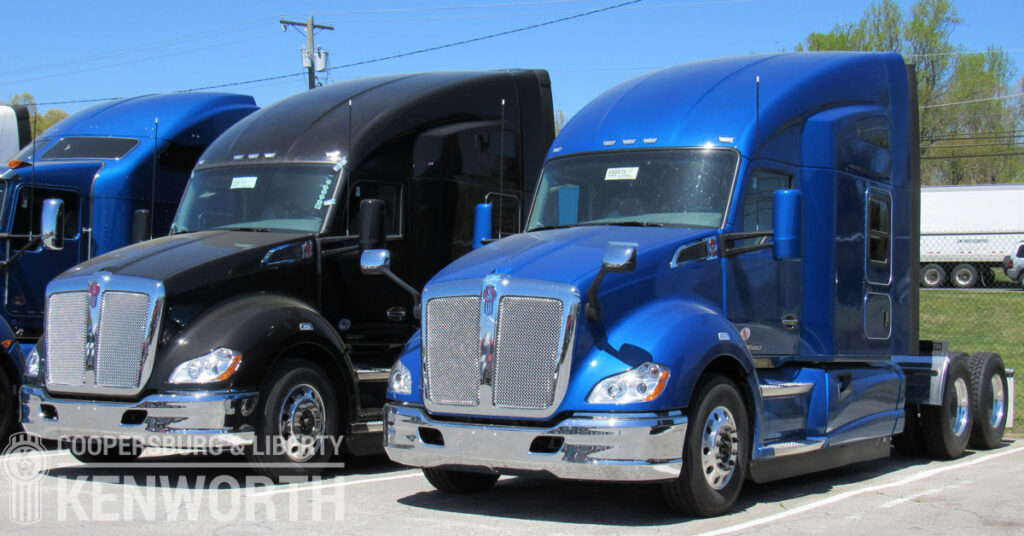 Is it time for a reinvestment in your shipping operations? Ready to expand shipping to larger territories? The new 2017 Kenworth T680's could be one of the best purchases you'll make! Available at Coopersburg & Liberty Kenworth, the T680 is a multi-purpose Class 8 heavy-duty hauler sure to make drivers and accountants happy.
Beyond Kenworth's established record as one of the top long-term investments in trucking, holding their resale value far longer than any other brand, the T680 can truly claim to be the most fuel-efficient option on the market. Running a T680 can lead to substantial reductions in your fleet budget, and that pays off in the long run!
The Kenworth T680 – Engineered for Pure Efficiency
Every inch of the T680 Kenworth was designed for optimal aerodynamics, creating a sleek truck that practically glides down the road. From the front air dams, to the chassis fairing design, and the exhaust cut-out covers, this truck reduces drag at every possible point.
Along with this, it features a robust selection of fuel-optimizing systems, including:
Driver performance assistance
Tire pressure monitoring systems
Smart idle management
Fuel-saving drive axles
Optimized Eaton Advantage transmission
Yet, one thing is does not compromise is power!
All The Power You Need, With Less Waste
The T680 can come powered by the Paccar MX-13, an engine that can go up to 500HP and peak torque of 1,850lb-ft. Despite bringing plenty of oomph, it has been designed for fuel efficiency. Even the engine itself is made from Compacted Graphite Iron, reducing weight significantly while still hauling large loads with ease, even up steep grades.
All in all, a T680 Kenworth can deliver fuel savings up to 10 percent beyond comparable trucks in its class. The T680 can truly pay for itself, and quickly!
The 2017 Kenworth T680's: Riding in Style
Lastly, your drivers will love the T680 as well. Along with those exterior improvements, the interior is a dream: spacious and comfortable, with full sleeper options available.
And yes, even the extended sleeper cabs are aerodynamic!
Smart drive systems make their lives easier across every mile of road, complete with Kenworth Nav+HD navigation, predictive/adaptive cruise control, and the Kenworth Driver Performance Assistant giving helpful tips.
The 2017 T680 is here, and Coopersburg & Liberty Kenworth has them in stock and ready to roll off the lot. Contact us for more information, or come see for yourself!