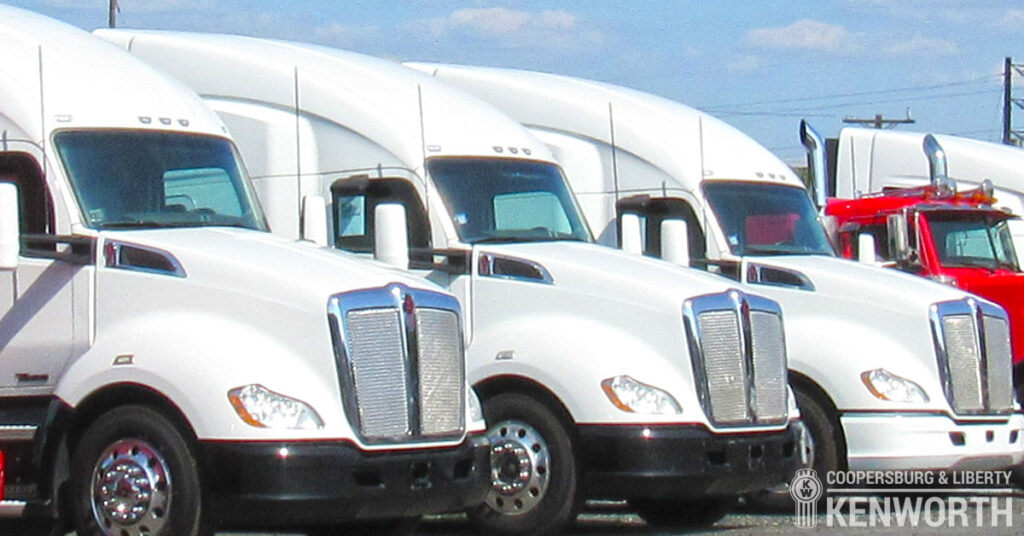 The current line of T680 Kenworth Trucks for sale from Coopersburg & Liberty Kenworth represents the pinnacle of smart truck purchasing.
How is Kenworth Delivering Superior Cost-Efficiency?
No other Class 8 truck on the road has so many features designed to cut down on operational costs. They still providing all the power and driver comfort which is expected from a Kenworth. The T680 boasts fuel efficiency that is 5-10 percent greater than any comparable truck.
Some of the features contributing to these savings include:
A body entirely designed by computer for minimum drag, decreasing fuel use every mile it is on the road.

Smart onboard computer systems which monitor all aspects of the truck's operations, tweaking performance to maximize fuel conservation.

Driver assistance software that gives feedback on driving behavior, and rewards drivers who utilize smart driving to cut costs.

Predictive cruise control systems that "watch" the GPS and adjust acceleration and braking to match the local terrain.

Low-weight, low-height sleeper cab options that reduce drag while also leaving more weight available for freight.
The T680 Kenworth trucks for sale from Coopersburg & Liberty Kenworth are an excellent value in all respects, and are among the most popular vehicles now on the road. All interested parties are invited to learn more directly at the dealership.
About Coopersburg & Liberty Kenworth
Few truck dealers in New Jersey or Pennsylvania are as well-known and trusted as Coopersburg & Liberty Kenworth. Their history dates back to the early 1980s, and they have spent that time building a reputation throughout the area for their huge selection, great service, and highly skilled repair and body shop workers. With a vast assortment of both new and used trucks spread across forty acres, and a massive after-market parts shop boasting more than 10,000 items, Coopersburg & Liberty is a top destination for fleet managers and independent owner-operators throughout the area.
For press or product inquiries, please contact 1.866.306.5552 (PA) or 1.866.306.5553 (NJ) or visit https://www.coopskw.com/.