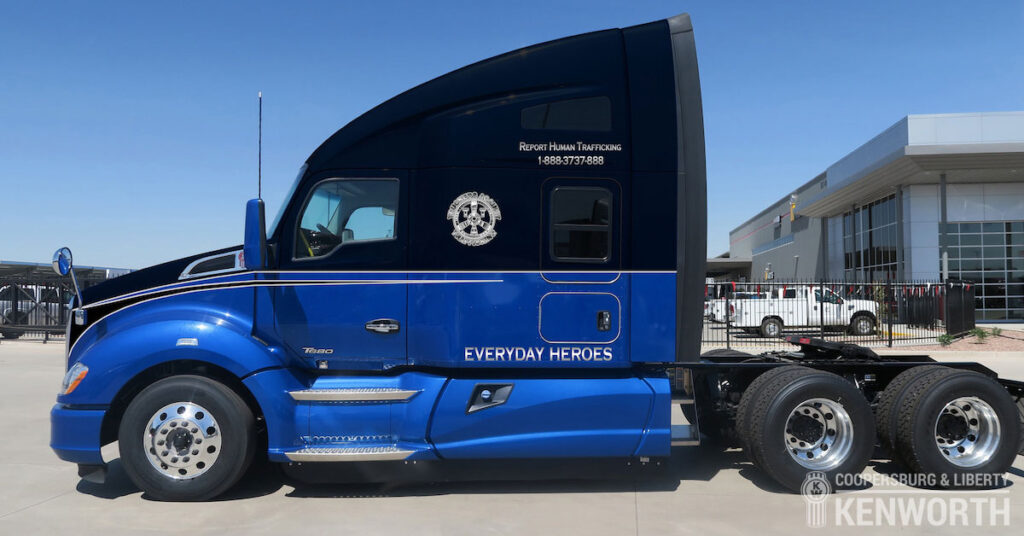 It's not something people in the industry like to talk about, but the fact is, there's a definite connection between truck driving in North America and human trafficking.
Whether it's running bodies over the border or transporting the estimated hundreds of thousands of captives here in the US, human traffickers need truck drivers to get their dirty work done. Traffickers recruit from schools, shipping companies, work depots, even online. Their constant stream of drivers who prioritize money over lives is a deliberate attempt to circumvent the law.
However, there are also good guys in this fight. We at Coopersburg & Liberty Kenworth as well as Kenworth themselves are proud to support them: Truckers against Trafficking.
Fighting the Good Fight against Human Trafficking
Truckers Against Trafficking began in 2009, and have since risen to prominence while also garnering the support of many key players in the industry. Their services include distributing information about human trafficking in the United States, as well as creating a network of drivers who always have their eyes and ears open to signs of trafficking going on around them.
Law enforcement should be called in any potential situations
Kenworth is a "Platinum" level supporter of Truckers Against Trafficking, alongside Volvo and Peterbilt. Such direct support from truck manufacturers is vital to getting the word out, as well as keeping truckers informed.
Donating A T680 Kenworth to the Cause
Kenworth also recently aided the cause by donating one of their T680 Kenworth trucks for charity auction! It was outfitted with special "Everyday Heroes" decals to emphasize the importance of drivers getting involved. The responsibility of selling it was given to Richie Bros auction house.
Appropriately, the winner of this custom T680 Kenworth was also from the industry: Mike Jimenez, owner of Phoenix-based J&L Transportation. His winning bid, minus auction fees and other duties, ultimately netted $89,000 for Truckers against Trafficking. It was, in fact, the largest single donation that TAT had ever received.
This was a perfect way for Kenworth to show their support for Truckers Against Trafficking. It also as helping to get the word out about the excellent T680 Kenworth.
If you're also interested in joining the fight against human trafficking, it's easy to get started: TAT offers a free series of videos and online certification for anyone wishing to help. Just visit their website and sign up!