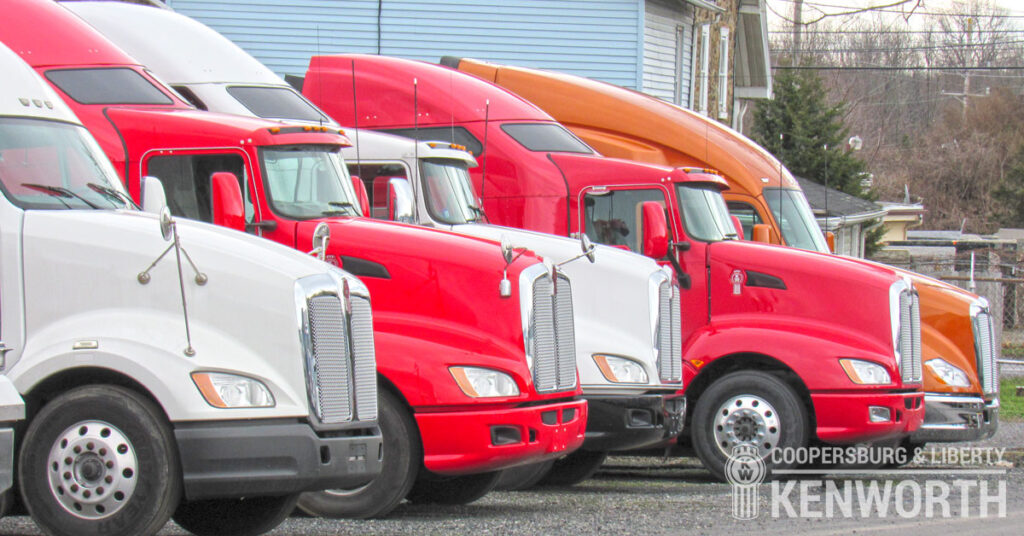 Specialty vehicles for less at Coopersburg & Liberty Kenworth!
Thanks to our many years in business, and vast forty acres of truck lots, Coopersburg & Liberty Kenworth stocks a wide range of used Kenworth trucks. Including some that are a bit less common.
The variety of stock we carry in used Kenworth trucks makes it easy for us to match the perfect truck for every job and driver. Whether you're looking at one of our top sellers or want something a little different, Coopersburg & Liberty Kenworth has it all.
Get Great Used Kenworth Trucks for Less at Coopersburg & Liberty Kenworth
Kenworth T800 The T880 might get more press, but the T800 is still one of the best values around in Class-8 trucking. It's affordable, built to last, and capable of doing a wide range of jobs. The T800 performs especially well for municipal work such as waste haulage, snow plowing, and similar jobs. With plenty of cab options, it's ready for the long haul too!
Kenworth C500 There's something awe-inspiring about the C500. This monster was built with the most extreme of jobs in mind, and it shows. You aren't buying a C500 for its looks, you're buying it because you need to go anywhere. Especially while hauling massive loads. This off-road beast laughs at terrain most trucks would never handle, and gets the job done easily.
Kenworth T2000 Discontinued in 2010, these trucks were among the most affordable in the Kenworth lineup. And they're still a great value today. The spacious cab is incredibly comfortable for long hauls, and with an extremely large windscreen for a great view. These pre-owned trucks still have a lot of use left in them!
Kenworth T660 The little truck with a lot under the hood. The T660 is slim and aerodynamic, while still being Class 8 and capable of handling major loads. It can also accommodate one of the largest sleeper cabs available guaranteed to make motel stops a thing of the past. The T660 is both beautiful and versatile.
We Always Have Something New in Used Kenworth Trucks
Keep in mind, our used stock changes frequently and these vehicles available at time of writing may not remain in stock for long. Contact us directly to inquire about our current stock, make reservations, or find out about any interesting recent acquisitions!