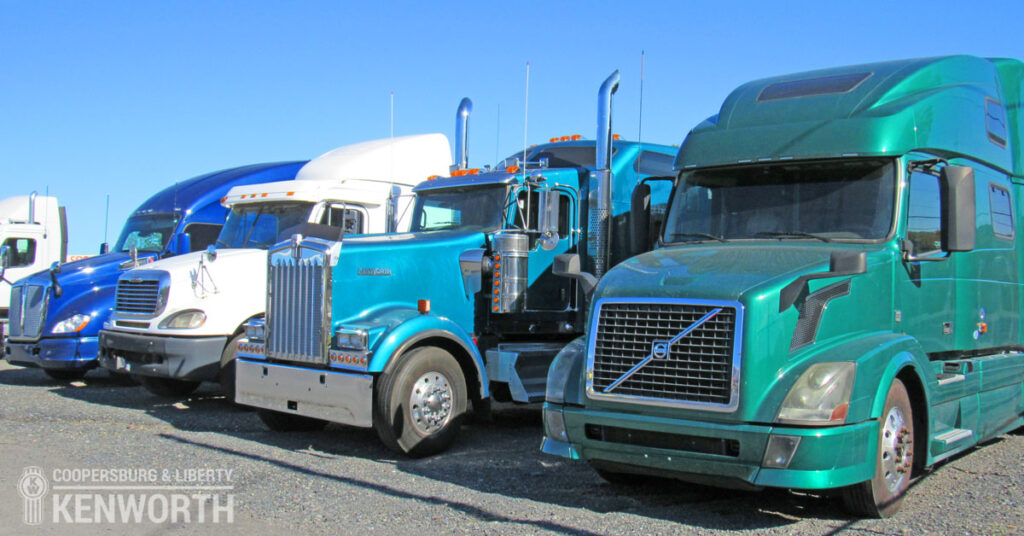 There's never any shortage of semi-trucks for sale, particularly if you're looking into both new and used options. With so many varieties available, there's a semi-truck for every possible usage scenario – but also a lot of pitfalls which a potential buyer might fall into.
Based on our own observations of truck sales here at Coopersburg & Liberty Kenworth, we wanted to warn people about some of the most common mistakes we've seen or heard of.
When Buying Semi Trucks for Sale, Don't Do These Five Things
1. Ignore used trucks
In a lot of cases, a used truck can be a much better investment than a new model! Trucks from top manufacturers like Kenworth are built to last, and can easily rack up hundreds of thousands of miles on the road before needing major work, When the truck is lightly-used and has a verifiable service history, it's often a legitimately good deal.
2. Buying a used vehicle without pulling its history
Always investigate the history of a used truck by getting its records. Contact your local DMV\DPS directly, if necessary, with its VIN. A truck which has been involved in a major wreck, for example, will probably never be 100% again – at least not without very costly full-body overhaul.
3. Buying more truck than you need
Always think hard about your usage scenarios before diving into all the available semi-trucks for sale. Bigger is NOT always better, particularly considering that large or over-powered trucks are going to have significantly worse gas mileage. Plan carefully and limit your purchase options accordingly.
4. Not researching local road laws
State laws governing semi-trucks can vary drastically, and you should be aware of those regs before purchasing. For example, some states prohibit the use of lift axles while on the road, or charge extra fees for vehicles that use them. Don't buy a truck that's going to cause trouble with local laws.
5. Trying to "eyeball" a truck's wear and tear
When looking at semi-trucks for sale, it's a good idea to bring along an expert – particularly if buying a used vehicle. If you can afford to purchase a semi-truck, you can afford to pay for a few hours of a mechanic's time ensuring it's a good purchase.
Coopersburg & Liberty Kenworth has a great selection of both new and used trucks! Visit us today!