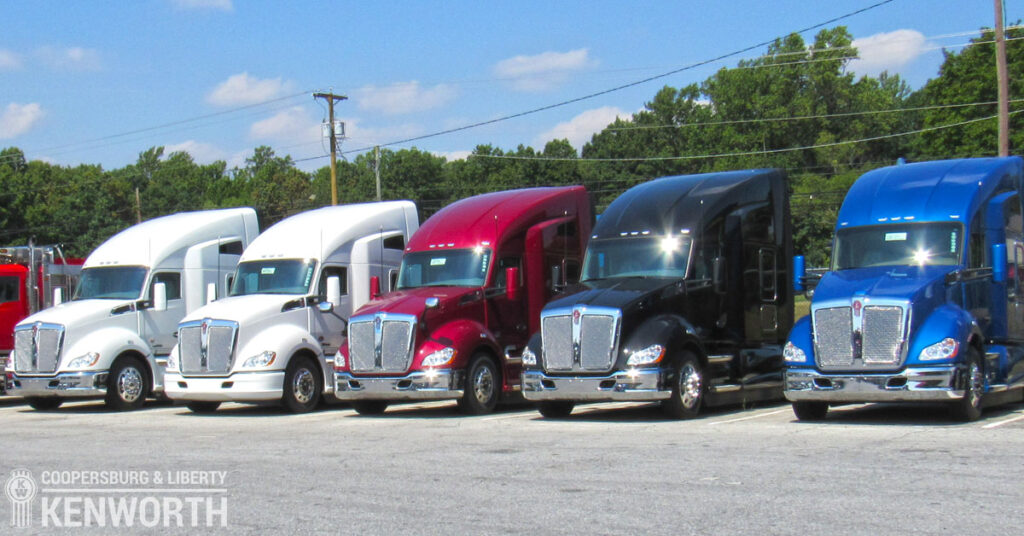 New Jersey Kenworth T680 Trucks are "The World's Best" in more ways than one!
When Kenworth calls their trucks "The World's Best," they aren't only referring to the build quality. Kenworth is seeking to make the best trucks for either fleet managers or owner-operators in every possible sense. Including helping them make plenty of financial sense.
There's nothing cheap about maintaining Class 8 trucks. Kenworth has gone out of their way to make the T680 the most financially-responsible Class 8 on the road.
New Jersey Kenworth T680 Trucks Cut Costs
Radical Aerodynamics
Every inch of the T680 has been designed by computer to optimize its aerodynamics. Even seemingly-inconsequential body parts, like steps and handles, have been crafted to minimize drag.
Multiple Smart Computer Systems
The onboard computers of the T680 monitor truck performance and fuel mileage at all times. They alert the driver to any issues with the truck or their driving, while encouraging more fuel-efficient methods. Even the cruise control system is made "smart" by tying it into the GPS for predictive acceleration and braking.
Lightweight Build
The T680 comes stock with PACCAR MX-11 or MX-13 engines, which are made of extremely lightweight materials without compromising strength and power. Plus, coming soon is the new Cummins X15 engine option, which will be the most fuel-efficient truck engine yet designed.
Lightweight Low-Drag Sleeper Cabs
The T680 has a wide range of add-ons, including five separate cab designs. Their mid-roof options are designed to reduce both size and weight while still giving drivers plenty of comfort.
Easy Servicing
A T680 was designed with maintenance in mind. Components were placed with an eye towards making them easy to access for tune-ups and replacements. Thus, reducing the amount of time your Kenworth spends offline for repairs and servicing.
How Does All This Add Up?
While, of course, there are many factors that affect gas mileage and overall costs to operate a vehicle, New Jersey Kenworth T680 trucks have been shown repeatedly to increase fuel mileage by 5-10% compared to similar Class 8 vehicles. Between that and the other operational benefits the T680 provides, it's fair to say that a full-time T680 can easily save several thousand dollars per year – at least!
If a fleet has multiple T680s in use, well, those savings can start adding up to some serious money in a very short time.
To learn more about the T680 for yourself, or to schedule a test drive, contact the team at Coopersburg & Liberty Kenworth – the top destination for New Jersey Kenworth T680 trucks!