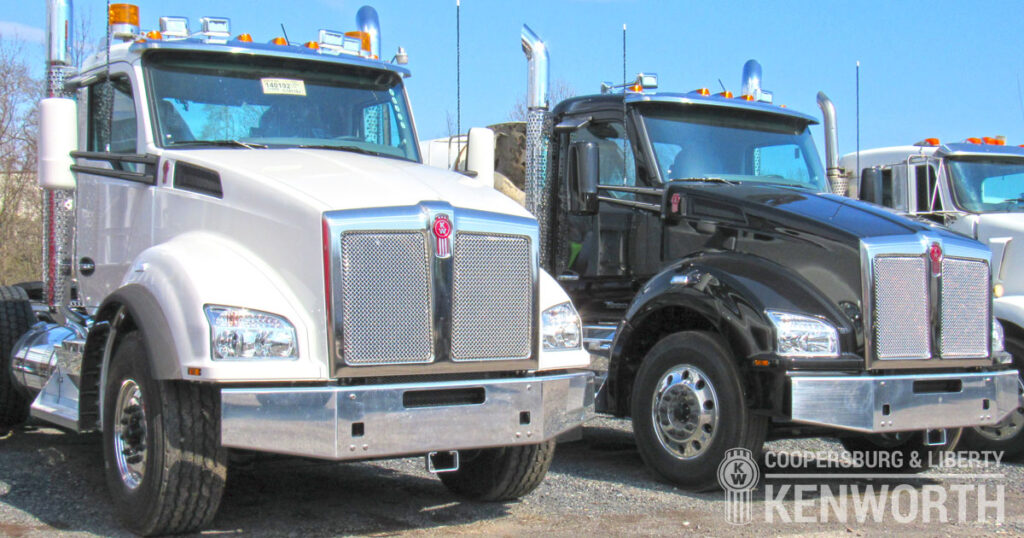 July 10, 2016 – Coopersburg, PA. Coopersburg & Liberty Kenworth, top sellers of Kenworth trucks in the Northeast, are proud to announce a full lineup of new daycab trucks for sale. These low-profile daycabs are perfect for in-city and in-state work, boasting great aerodynamics as well as low weights to maximize the size of every load hauled.
The Coopersburg & Liberty Kenworth lots have been recently fully restocked with these low-cost day cab options. Kenworth day cab trucks for sale still put an emphasis on driver comfort, with a large driving space, along with a full suite of features designed to make drivers' jobs as easy as possible.
Drivers in a Kenworth day cab truck still get plenty of leg-and head room, and a generous amount of storage space for the amenities they need. Onboard computer systems monitor their driving, making smart recommendations to reduce fuel consumption and improve braking habits. Plenty of room for optional accessories such as built-in GPS units can further simplify their workload.
When a company buys Kenworth day cab trucks for sale from Coopersburg & Liberty, they are truly getting The World's Best, backed by trusted experts in the industry. Full options in both new and used trucks, along with generous trade-in options, makes Coopersburg & Liberty Kenworth a top stop for commercial fleet operators of all sizes.
About Coopersburg & Liberty Kenworth
Boasting over thirty years' experience dealing in Kenworth vehicles and other trucks types, Coopersburg & Liberty Kenworth is the ultimate option for fleet vehicles in the northeast. Their two locations, in Swedesboro, New Jersey, and Coopersburg, Pennsylvania, both boast over 15 acres of trucks, in a full range of sizes from Class 5 to Class 8. Plenty of day cab trucks are for sale, along with a full range of sleeper cabs in all sizes as well.
For more information on current stock or press inquiries, visit https://www.coopskw.com/ or call (866) 306-5553 (NJ) or (866) 306-5552 (PA).