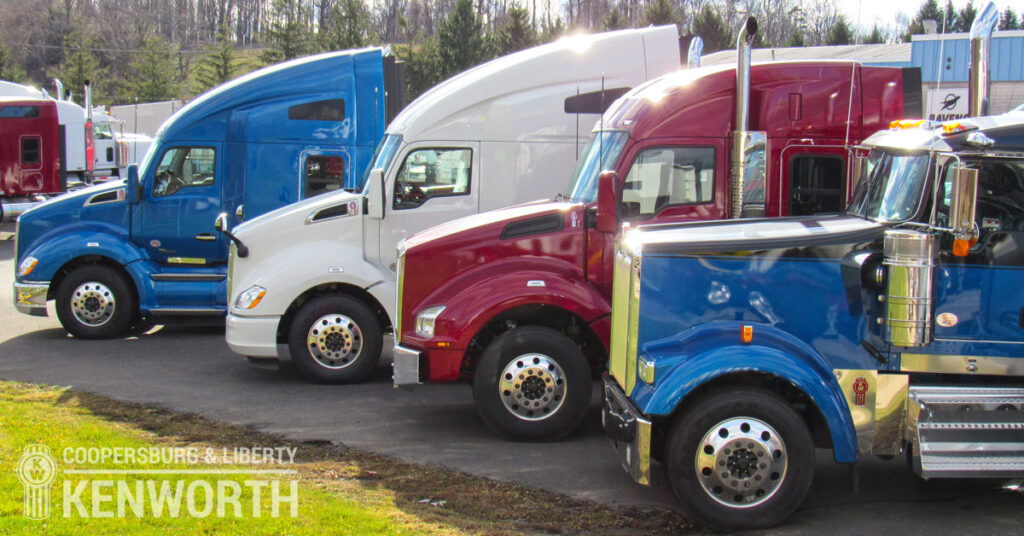 As one of the biggest Kenworth retailers in the northeast, here at Coopersburg & Liberty Kenworth we have a vast selection of Kenworth trucks for sale. Between our two lots, we have forty acres of trucks in a vast variety of types, sizes, and configurations.
On top of that, we also have our own in-house repair/upgrade facilities and a vast warehouse of parts and accessories. That means that no matter what sort of truck you're looking for or what specific needs you have, we can make it happen!
These are just a few of the many great new or used Kenworth trucks for sale on our lot on any given day…
The T680 is our most popular model, and it's easy to see why. There's no other truck on the road that matches the T680's combination of price, performance, and overall value. It has fuel efficiency which no other Class 8 truck can come close to beating. The truck comes equipped with outstanding features that prioritize the driver's needs and contribute to an enhanced driving experience. It's a rare truck that can keep your customers, your drivers, and your accountants happy – but the T680 does it.
The T880 is a robust heavy-duty truck that excels in various on-road hauling tasks, making it highly suitable for demanding jobs in the industry. Most involve even the heaviest of equipment. Whether it's outfitted as a dump truck, cement mixer, logging hauler, or more, the T880's PACCAR MX-13 engine is up to the task. Combine that with an incredibly comfortable cab your drivers won't mind being in all day, and you've got an all-around winner.
The Classic. It's rare for a working truck to be called 'iconic,' but that's precisely what the W900 is. The W900s looks have barely changed in decades. But the technology under the hood and inside the cab has continued to march forward. Today's W900s combine all the interior comforts a driver could want; with all the power a hauler could ever need. It's easy to work on, easy to maintain, and available in a wide variety of configurations.
There's powerful, and then there's the C500. This is no ordinary truck – it's designed from the ground up to be capable of going nearly anywhere. It's intended for extreme off-road usage, easily tackling ground where most trucks would fear to tread, and carrying huge loads all the while. The C500 isn't for everyone, but if you need it, there's no substitute.
Coopersburg & Liberty Kenworth
We have all these Kenworth trucks for sale, and more, on our two lots. Our stock of used and new vehicles changes frequently, so contact Coopersburg & Liberty Kenworth to inquire about our available trucks!